Wordle
is well-known for good reason, but these two alternatives are well worth exploring too if you want more image options (with apologies for not blogging about them sooner).
Tagxedo
allows you to create word clouds which form a recognisable image. Here's an example of a Michael Jackson
Tagxedo
. The resulting words are not clickable but the range of images and customisability is why you might choose it over other options. You can find 101 ways to use Tagxedo
here
.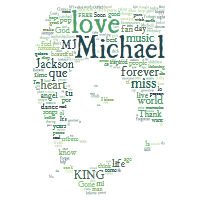 Tagul
offers a similar service to
Wordle
although each tag is connected to a url, so you can click on words to carry out a Google search on that term. If you'd like the word to point to a different site, this is an adaptation you can carry out on the site. Here's an example (image only) below.